Order number:

Phidgets-3051_1

Manufacturer product ID:

3051_1
This board has 2 SPDT mechanical relays rated at 210W for DC or 1750VA for AC. The...
more
Product information "Phidgets Dual Relay Board"
This board has 2 SPDT mechanical relays rated at 210W for DC or 1750VA for AC.
The Dual Relay Board allows you to control larger loads and devices like AC or DC motors, electromagnets, solenoids, and incandescent light bulbs.
Note: This board is not suitable for switching signals. It takes at least 100mA of current to bridge the oxide layer that forms on the relay contacts, and most signals will not meet this requirement. If you need to switch signals, check out the 1017 - PhidgetInterfaceKit 0/0/
Product Specifications
Physical Properties
Switch Type
SPDT
Switching Speed Max
20 cpm
Recommended Wire Size (Control)
16 - 26 AWG
Recommended Wire Size (Load)
12 - 24 AWG
Operating Temperature Min
0 °C
Operating Temperature Max
70 °C
Board
Controlled By
Digital Output (5V)
Current Consumption Min
14 mA
Current Consumption Max
180 mA
Supply Voltage Min
3.3 V DC
Supply Voltage Max
12 V DC
Electrical Properties
Dielectric Strength
1.5 kV AC
Contact Resistance Max
100 mΩ
Load Voltage Max (DC)
* 30 V DC
Load Voltage Max (AC)
277 V AC
Load Current Min
100 mA
Load Current Max (DC)
7 A
Load Current Max (AC)
12 A
Turn-on Time Max
10 ms
Turn-off Time Max
10 ms
*Note: Switching this relay at voltages higher than 30V will result in a reduced product lifespan.
Please Note: This relay cannot be switched at its maximum AC voltage and current at the same time. Ensure that total power of the load does not exceed the switching power for the relay. For example, you can switch this relay at 277V AC and 6.3A (1750VA), or at 145V AC and 12A (1750VA), but not at 277V and 12A (3324VA).
Estimated Relay Lifespan
The lifespan of the relays on this Phidget vary depending on how much current you're switching and whether it's AC or DC. The following graph illustrates the relationship between load current and relay lifespan: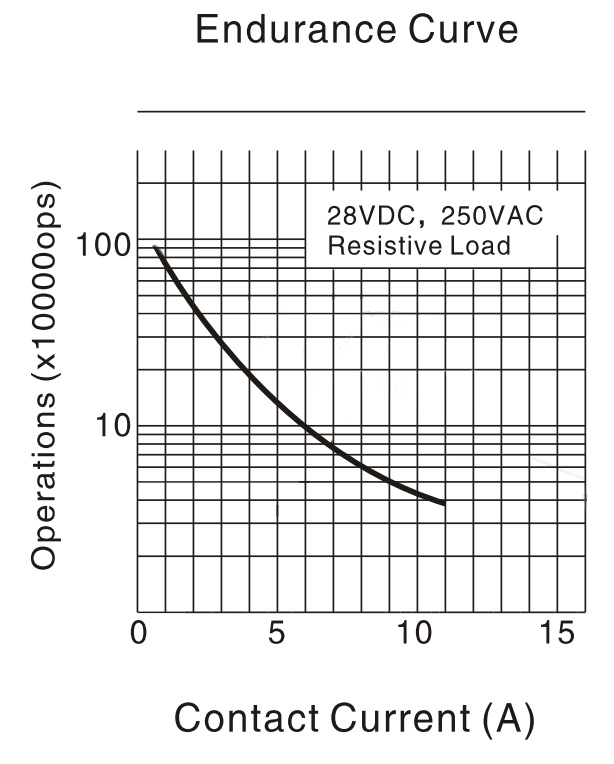 The vertical axis is the lifespan of the relay (number of actuations) and the horizontal axis is load current in amps. As you can see, increasing load current from 5A to 10A can reduce relay life by more than half.
Related links to "Phidgets Dual Relay Board"
Read, write and discuss reviews...
more
Customer evaluation for "Phidgets Dual Relay Board"
Write an evaluation
Evaluations will be activated after verification.