This product is currently not available.
Please inform me as soon as the product is available again.
Order number:

ROBT-905-0012-400

Manufacturer product ID:

905-0012-400
Open Platform Humanoid Project DARwIn-OP (Dynamic Anthropomorphic Robot with...
more
Product information "ROBOTIS-OP Deluxe Edition [EU-220V]"
Open Platform Humanoid Project
DARwIn-OP (Dynamic Anthropomorphic Robot with Intelligence–Open Platform) is an affordable, miniature-humanoid-robot platform with advanced computational power, sophisticated sensors, high payload capacity, and dynamic motion ability to enable many exciting research and education activities
ROBOTIS Open Platform Humanoid robot, DARwIn-OP official Introduction
?
DARwIn-OP Humanoid Robot Demo
Standard PC-based Robot with Convenient Interfaces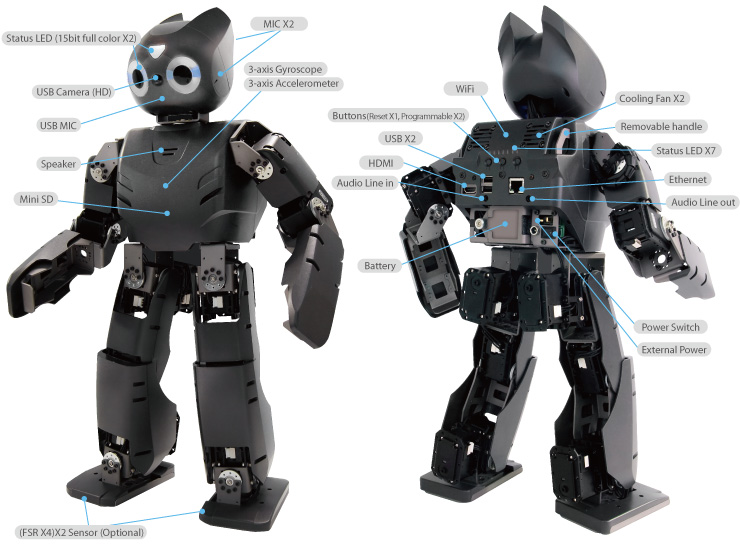 High Performance and Advanced Features
Default walking speed: 24.0 cm/sec (9.44 in/sec) 0.25 sec/step - user modifiable gait
Default standing up time from ground: 2.8 sec (from facing down) and 3.9 sec (from facing up) - user modifiable speed
Management controller (CM-730): ARM CortexM3 STM32F103RE 72MHz
20 actuator modules (6 DOF leg x2+ 3 DOF arm x2 + 2 DOF neck)
Actuators with durable metallic gears (Dynamixel MX-28)
Self-maintenance kit (easy to follow steps and instructions)
Standby mode for low power consumption
3Mbps high-speed Dynamixel bus for joint control
Battery (30 minutes of operations), charger, and external power adapter
(Battery can be removed from robot without shutting down by plugging in external power before removal)
Versatile functionality (can accept legacy, current, and future peripherals)
3-axis gyro, 3-axis accelerometer, button x3, detection microphone x
Efficient and Versatile Modular Configuration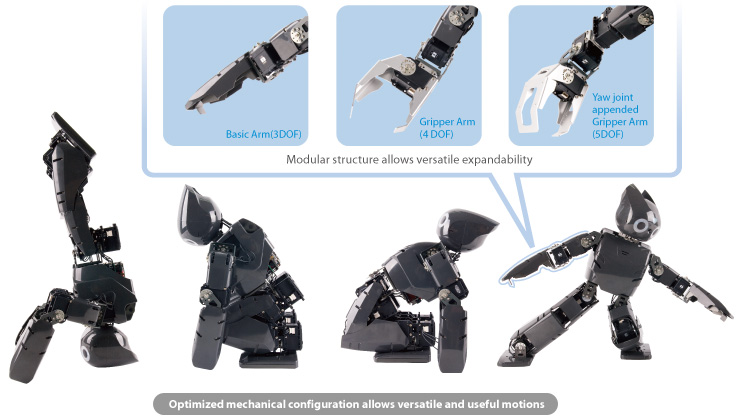 Simple and Clean Architecture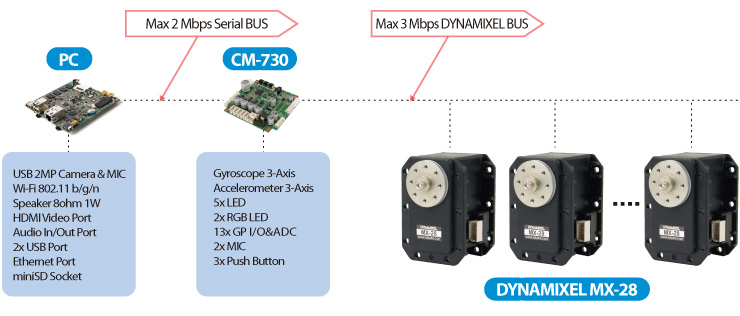 Open Platform (Hardware and Software)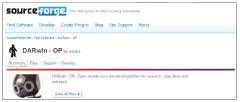 http://sourceforge.net/projects/darwinop
(Dimensions, Kinematics, Dynamics, CAD data)
(Controllers, Sub B/Ds, Schematics, Part Information)
(Development Environment, Framework, Source Code)
(Detailed Assembly Diagrams, User Manintenance Guide)
(User-developed Code, Various Application Examples)
Dimensions and Weight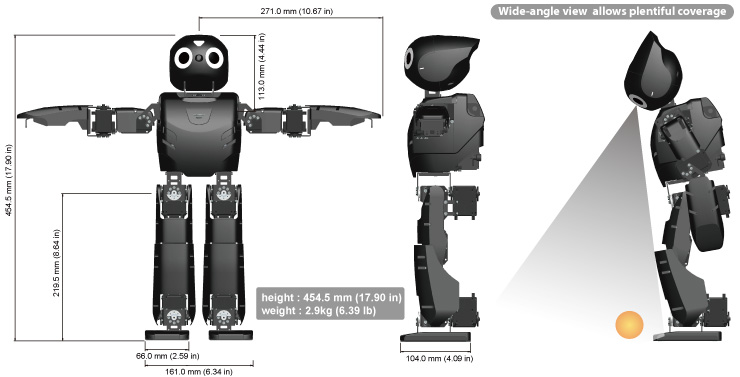 The DARwIn-OP Deluxe Edition includes:
2 years Extended Warranty. The Extended Warranty includes:

Extended Warranty Period of 2 years.
Unlimited Technical Service from Trossen Robotics for 2 years

IM2500 Reinforced Pelican case included
Related links to "ROBOTIS-OP Deluxe Edition [EU-220V]"
Read, write and discuss reviews...
more
Customer evaluation for "ROBOTIS-OP Deluxe Edition [EU-220V]"
Write an evaluation
Evaluations will be activated after verification.